Negative Pressure Weighing Booth (Sampling Booth/Dispensing Booth)
The negative pressure weighing booth is a kind of purification equipment, its pressure in working area is lower than outside. It is mainly used for weighing materials such as drugs or activated carbon, and four levels of protection in the process of sub-packaging: materials are protected from pollution by personnel and environment, the environment is protected from pollution by materials and dust, and operators are protected from pollution by materials and dusts. Its air flow pattern and pressure of the environment are not affected by on or off state of weighing booth. The equipment is widely used for weighing and sub-packaging in pharmaceutical, medicine and health and environmental protection.
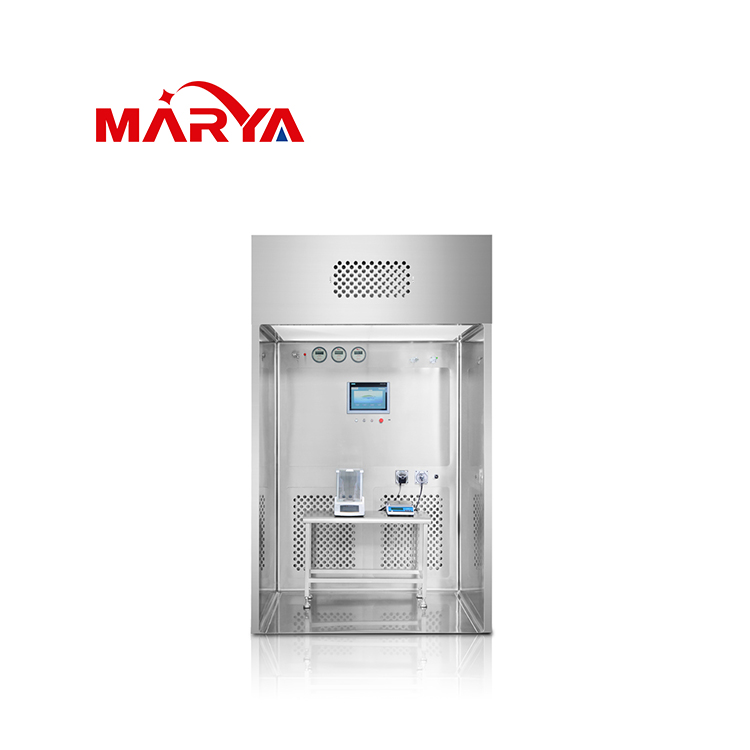 Negative Pressure Weighing Room1-1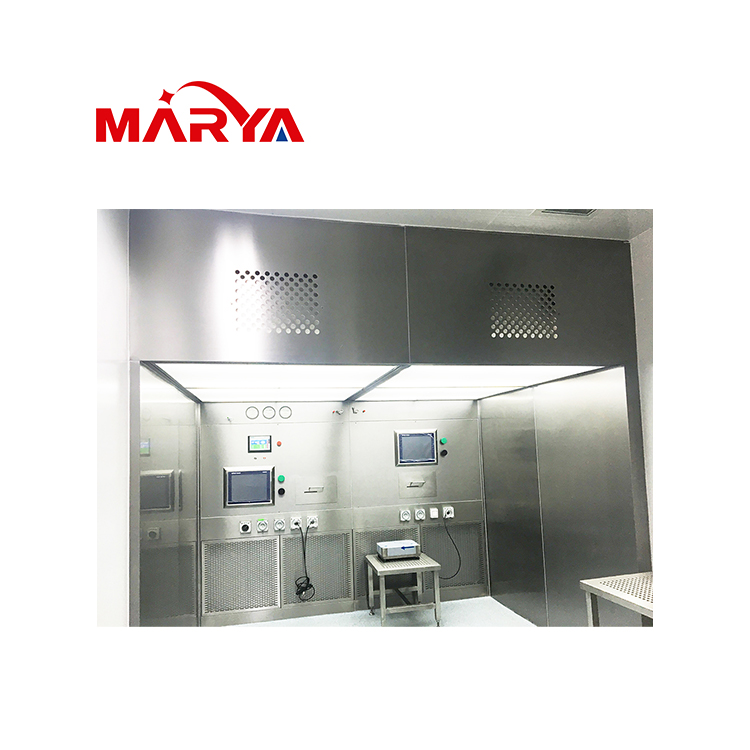 Negative Pressure Weighing Room8-1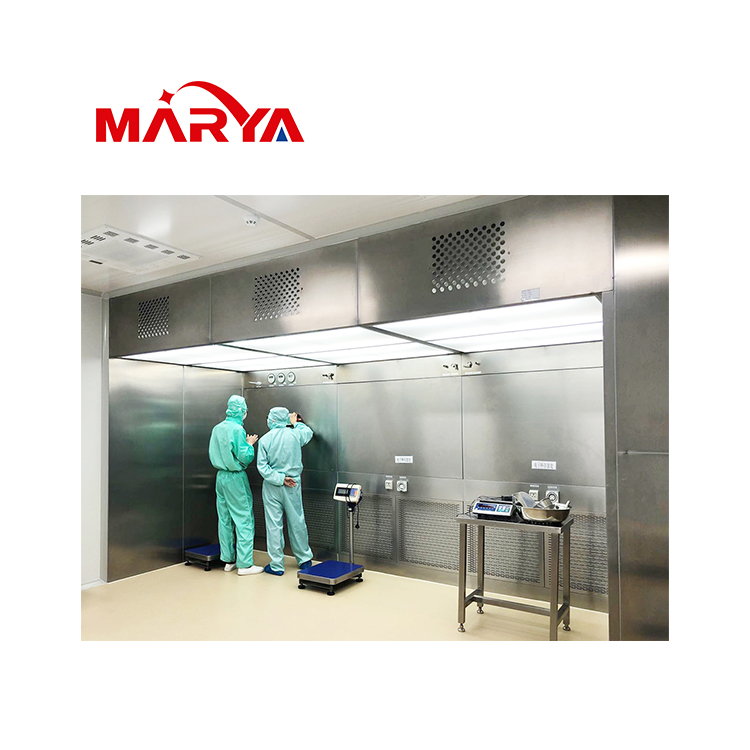 Negative Pressure Weighing Room9-1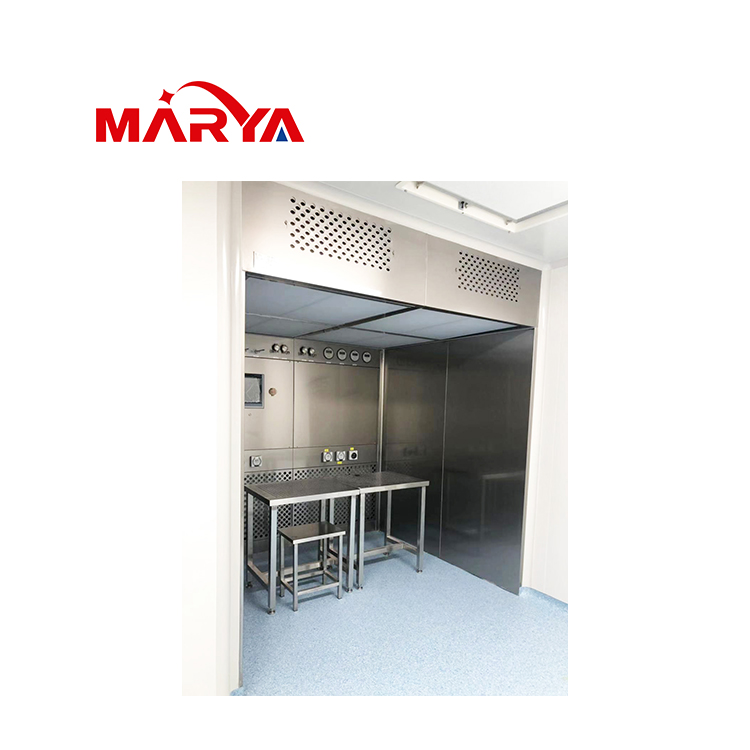 Negative Pressure Weighing Room10-1


1. Main Characteristics:
1、There are pockets and containers for collecting materials under negative pressure room.
2、An isolation plate is installed on operating area to ensure that material will not fly out of the operating area.
3、A flow equalizing plate makes wind speed uniform and ensures that wind speed on the same plane is consistent.
4、Automatic control of air supply and exhaust to ensure that operating area is in a state of negative micro-pressure relative to the outside of equipment.
5、Automatically controlled by microcomputer and wind speed is automatically constant.
6、The operating parameters of equipment can be stored and printed. If operating parameters exceed the set limit, the equipment will alarm.
7、Negative pressure weighing booth can be made as follows: movable type, integral type, assembled type.
2. Technical Data Sheet
Model

DBT-800

DBT-1200

Cleanliness

ISO5 (CLASS A)

Air Output m3/h

800

1500

Exhaust Air Rate m3/h

150

250

Air Supply Velocity m/s

0.45±20%

0.45±20%

Negative Pressure Differential at working area Pa

-5 to -15Pa

-5 to -15Pa

Noise dB(A)

<72

<72

Illuminance LUX

>300

>300

Power Supply

AC220V/50Hz

AC220V/50Hz

Max. Power W

350

550

Weight kg

40

80

Outline Dimension mm

W900*D800*H2000

W1300*D850*H2000

Working Area Dimension mm

W800*D500*H800

W1200*D600*H800

Operative Surface

Isolation Gate
Negative Pressure Weighing Booth
We could not find any corresponding parameters, please add them to the properties table
Related Products
Products that maybe needed
Message
Please feel free to give your inquiry in the form below. We will reply you as soon as possible
Shanghai Office: NO211, North Fute Road, Pudong area, Shanghai, China, 200131
Changsha Office: Room 23069, Block 6, Forte Star Shine World, Yuhua District, Changsha, Hunan province
Factory 1: Hunan Marya Technology Co., Ltd. Address: No. 7 Plant, SANY Industrial Park, No. 1, SANY Road, Changsha Pilot Free Trade Zone, Hunan Province, China, 410100
Factory 2: No 555, Yupan Road, Weitang Town, Xiangcheng District, Suzhou, Jiangsu Province, China
Factory 3: 15-A, Venture Capital Industrial Square, Yanghe Road, Suzhou Industrial Park
Tel:+86-13507449007
E-Mail:info@marya.com.cn
Copyright © 2020 Shanghai Marya Pharmaceutical Engineering & Project Co., Ltd 沪ICP备2021002344号-1