Coating Machine
The tablet core continuously moves in a complex trajectory in the clean and airtight rotating drum of the coating machine, flipping smoothly and exchanging frequently. The coating medium stirred by constant temperature mixing tank is sprayed from spray gun to film core through peristaltic pump. At the same time, under action of hot wind and negative pressure, class 100000 clean hot wind supplied by hot air cabinet passes through core, and then discharged from air door through the bottom sieve hole, so that coating medium can be dried quickly on the surface of core to form a solid, compact and smooth surface film. The whole process is completed automatically under the control of PLC.
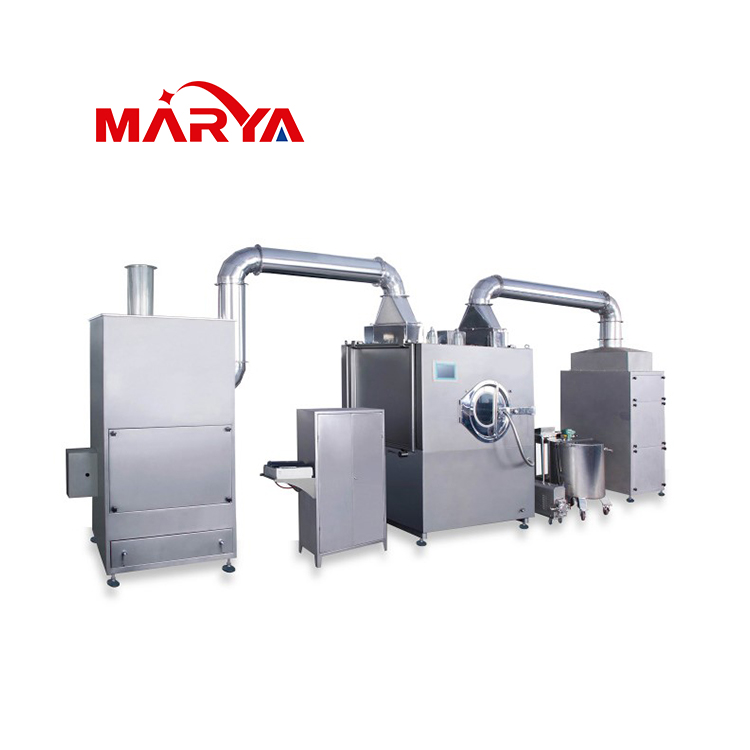 coating machine5-1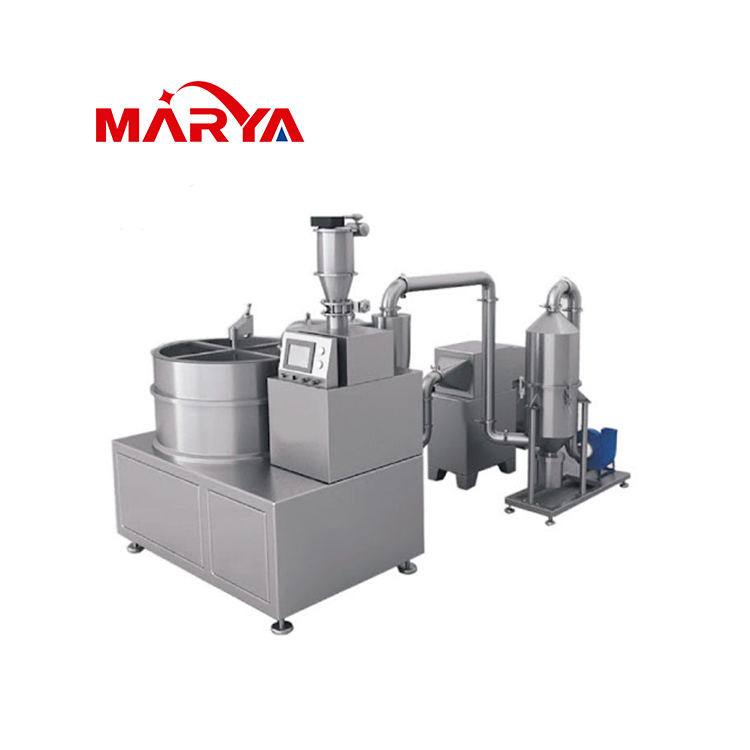 coating machine1-1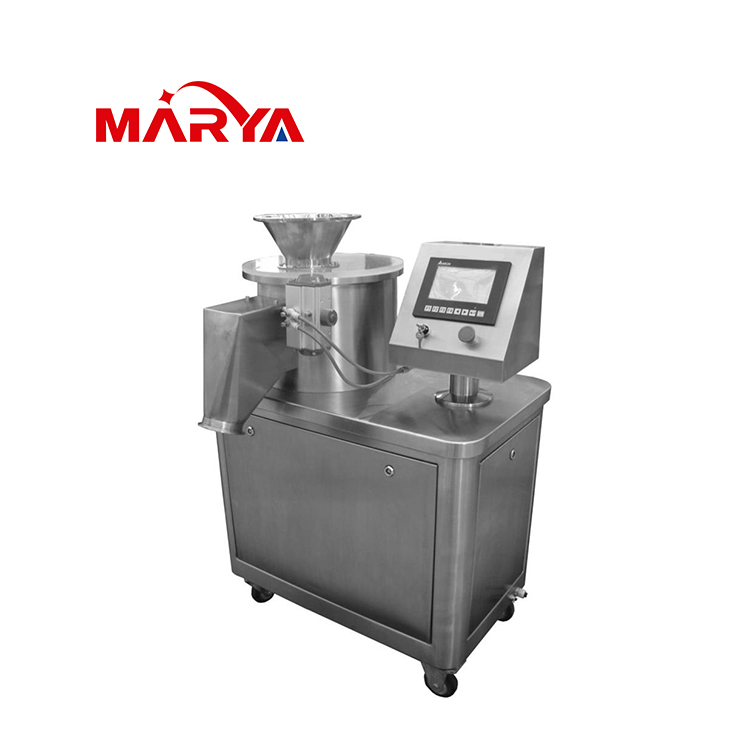 coating machine8-1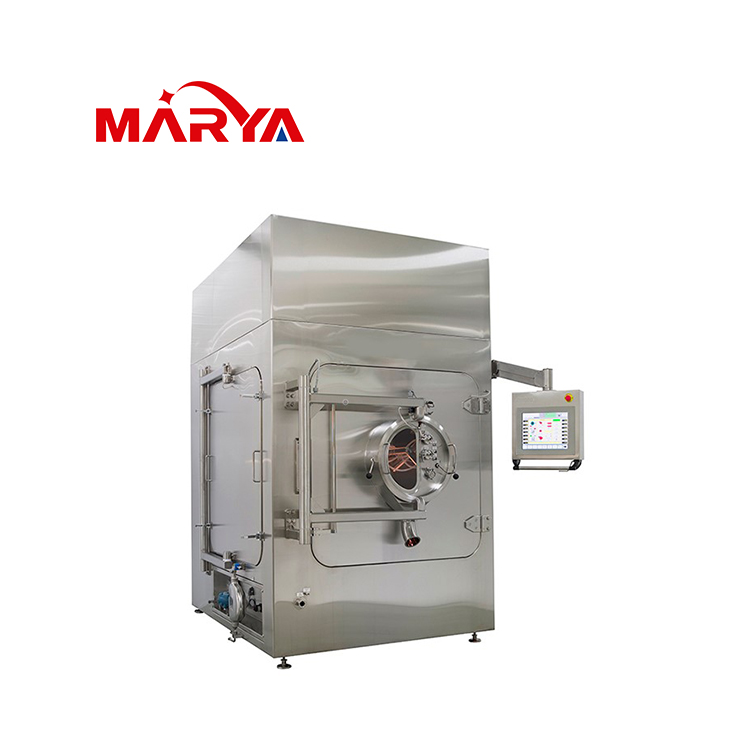 coating machine3-1


1. Introduction
Coating machinery is widely used in pharmaceutical, food, biological products and other fields. it can make all kinds of organic film, water-soluble film and sugar coating for all kinds of tablets, pills, sweets.(The effect of slow and controlled release can be realized in the aspect of drugs.) The whole machine has the advantages of beautiful appearance, high efficiency, low energy consumption, small area and so on.
There is no dust and slurry spatter in the whole coating process, which improves working environment and reduces cross pollution of tablets. The process of tablet coating is simple, the coating time is greatly shortened and the production efficiency is improved.
2. Performance
Drug-loading Rate: 5-600L
A new type of microcomputer temperature and negative pressure module control system and touch screen graphic display and control are adopted, which has programmable function.
Coating machine can automatically adjust most of process parameters, such as flow rate, negative pressure, inlet air volume, exhaust air volume, temperature, speed, etc., so that the compilation of standard operation procedure (SOP) can be digitized. Different batches of goods can be produced with the same technical parameters, so that the difference between batches is close to zero.
The coating machinery can be configured with data storage and printing functions: a variety of programs for automatic sugar coating and film coating can be modified at any time during operation; a printing device can be equipped according to customer requirements, so that process parameters and process flow of each batch of production can be truthfully recorded.
Automatic in-place cleaning system can be configured: there is a high-pressure spray gun inside and outside coating pot, and a cleaning nozzle is provided at air outlet and hot-air outlet, which can rotate automatically in all directions, no dead corner, more convenient and easier cleaning.
A professional customized spray gun can be used, which is strictly according to GMP and coating technology; all stainless steel design, easy to operate disassemble without any tools, flexibly control process requirements, prevent dripping and clogging, flow, angle and fan can be adjusted; uniform atomization, large spray surface, saving auxiliary materials
The coating machine contains a mechanical device for coating in large container, and through its inherent mechanical adjustment, a small amount of plain tablets are coated in a large cylinder, which will not cause waste of auxiliary materials and greatly improve scope of use.
We could not find any corresponding parameters, please add them to the properties table
Related Products
Products that maybe needed
Message
Please feel free to give your inquiry in the form below. We will reply you as soon as possible
Shanghai Office: NO211, North Fute Road, Pudong area, Shanghai, China, 200131
Changsha Office: Room 23069, Block 6, Forte Star Shine World, Yuhua District, Changsha, Hunan province
Factory 1: Hunan Marya Technology Co., Ltd. Address: No. 7 Plant, SANY Industrial Park, No. 1, SANY Road, Changsha Pilot Free Trade Zone, Hunan Province, China, 410100
Factory 2: No 555, Yupan Road, Weitang Town, Xiangcheng District, Suzhou, Jiangsu Province, China
Factory 3: 15-A, Venture Capital Industrial Square, Yanghe Road, Suzhou Industrial Park
Tel:+86-13507449007
E-Mail:info@marya.com.cn
Copyright © 2020 Shanghai Marya Pharmaceutical Engineering & Project Co., Ltd 沪ICP备2021002344号-1